Graham Wilson - USAT Elite Level III Coach

Graham Wilson has been racing and coaching multisports for over 25 years. Originally from Great Britain, he was a member of the British Triathlon Team and Captain and Coach of the UK Army Triathlon Team. In addition, he founded and was Swimming and Biking Coach for two Triathlon Clubs, each with over 200 triathletes. Since moving to America in 1993, Graham has become a USAT Certified Coach and has continued his passion for racing and coaching. Graham is a seven-time Ironman Triathlon finisher, including the World Ironman Triathlon Championship held in Hawaii. He has competed in over 300 triathlons worldwide as a top age-group triathlete, frequently gaining a podium spot and consistently finishing in the 5 within his group.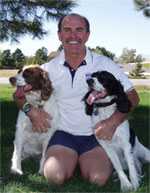 Graham believes in continuous learning and is an avid consumer of all publications relevant to Multi-sport that will increase his effectiveness as a coach. His is currently Chair of the USAT National Coaches Commission and is author of a chapter in the recent USAT book, Complete Triathlon Guide. As part of Graham's commitment to triathlon, he is also a USAT Certified Race Official and has been Head Referee at numerous races, including, Lifetime Fitness Chicago and Rev 3 at Cedar Point. Finally, Graham is a member of the Mideast USAT Regional Board.
Graham lives North of Chicago with his wife, Judith and rescue dog, Bodie. (The Black and White Springer) Britt (the Brown and White Springer is now in the great dog park in the sky). In 2006 whilst competing at Ironman Canada™ – Graham crashed on the bike (someone put tacks down on the road). The crash was followed by multiple surgeries and now he is unable to race IM anymore. However, as an example of Graham's positive attitude to life, rather than become despondent, he has become even more focused on helping his clients reach their full potential.